Previous Tours, Reviews and Feedback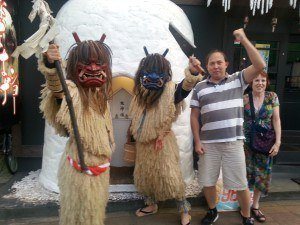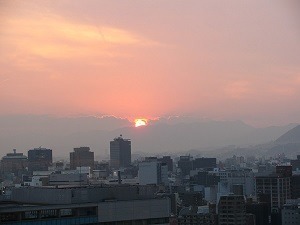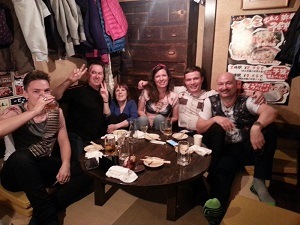 We strive to deliver an excellent experience for all of our guests. The work that we put in is rewarded by the feedback and comments that we receive (and the occasional gift that turns up in the post). While some of the comments below are sent to us directly, we also believe that guests should post their comments on independent review sites such as Trip Advisor and Google reviews. A selection of our guest feedback is listed here including the things people say about us and our trips.
One way to illustrate our approach to Japan is to view a JCT tour through the eyes of our guests. For one of our customised trips (in May 2017) we were fortunate to have a keen people that made a video diary of their journey across their three week trip. They kindly provided a copy and you can view a copy by clicking on one of the two following icons.
April 2019 - Heritage Cherry Blossom Tour - 11 days
Our cherry blossom tours are popular and with several running across the March and April period we cover a number of different courses as we follow the blossom around the country. For our "Heritage" tour we had a small group being looked after by Koji and Wendy across the peak of the season, still taking in a good mix of locations across 11 days.
I just want to thank you for the wonderful time I had with you in Japan. It was great how you both took care of me. I felt really relaxed with you guys, not Tour Guides , more like friends. it was an amazing and unforgettable trip for me. Thank you so much. Wish you both all the best.
Fara (via email).
October 2018 - Custom Tour - 17 days
With a two-month lead time we put together a custom tour for a couple from the USA. Covering some different locations in the north of the country, travelling from Tokyo to Sapporo and then flying to Hiroshima for efficient use of time were just part of the planning, along with a range of specific requests and inclusions.
With everything prepared, we did need to watch the arrangements quite carefully for travel disruptions, but the weather forecasts and schedule worked around a weakening typhoon quite nicely.
We thoroughly enjoyed our trip to Japan due to everything that you three did to make it a wonderful experience.
Patrick, your pre-planning and organization were superb. You were able to tailor the trip to meet our needs, reflect our preferences, and even deal with Mimi's allergies so that we could get the most enjoyment from our time in Japan. Everything ran with precision and efficiency, and you used all of the information collected in preliminary emails to make the trip uniquely ours. The one day we spent with you in Kyoto was an added bonus. People always ask what it's like to spend two weeks with a guide you've never met before. We can truthfully say that you were easy to be with and getting to know you added great value to our trip.
Wendy and Koji, you are incredibly caring, informative and went out of your way to give us the best experience possible. Nothing was ever too much trouble, and we greatly appreciated your personal touch and positive attitudes. In spite of the fact that we subtitled our trip "Two Typhoons and an Earthquake," Wendy and Koji, you executed the new itinerary as though it had been planned that way from the beginning. The Sapporo sculpture garden, which was a last minute addition due to our early arrival in the city, is one of the highlights of our trip. It was a perfect outing for us.

Warmest Regards,
Mauri and Mimi (via email)
May 2018 - Best of Japan - Garden Theme - 17 days
One of our pre-panned schedules is a "Best of Japan" tour usually covering two weeks. For the month of May, with the weather becoming more settled we were asked to create a version with a garden theme. Including some of the best gardens in Japan we visited a few of the famous locations, and also a couple of spots off the tourist trail across our two weeks.
Absolutely Fabulous: In May, we completed a fully escorted 17 day Spring Garden Tour with Japan Custom Tours (JCT). The tour, which we helped design, was based on a previous JCT tour with the addition of Japans top three gardens. Patrick, our tour guide, with his impressive knowledge of Japan and his detailed understanding of the rail network, very quickly worked out the logistics and made suggestions on how to travel around Japan, thus maximizing our time to be able to do the things we wanted.
Patrick's planning was exemplary and it showed in many ways. Hotels were first class, centrally located, and included breakfast. His in-depth knowledge of Japan's high speed rail network allowed us to get to the various attractions in a timely manner and with no downtime. We made some small last minute changes to our schedule and these were accommodated without issue. This made for a very relaxed holiday with nothing to do but drink in the sights and enjoy Patrick's insights to the history of each of them. We would thoroughly recommend Japan Custom Tours to anyone wanting an absolutely fabulous taste of Japan.
Malcolm and Irene, (Trip Advisor)
March 2018 - Early Cherry Blossom - 14 days
Cherry blossom season stretches through March and April, and for 2018 arrived 10 days earlier than normal. For our "early" blossom tour this meant our guests were treated to some beautiful displays of blossom that normally would have arrived at the beginning of April. A few adjustments to our daily schedules, a few different locations to catch some of the blossom, and a happy group.
Japan Custom Tours...low touch small group tour. Patrick, Koji, and Wendy were amazing right from the outset. They were prompt, courteous, and very responsive. We knew right from the get-go that this small group tour of 6 was perfect for us. They knew what we wanted and delivered in spades, such that we had the best imaginable Japanese experience...and they even delivered the best display of Sakura one could ask for.
Forget the big tour companies...if you are relatively fit and can handle your own suitcase then go with Japan Custom Tours...you won't regret it !!!!
Ann F, (Trip Advisor)
Wow! What a holiday. Japan Custom Tours, in particular Patrick, has spoiled us for any further overseas tours with this holiday turning out so much better than we had ever imagined. Patrick met us at the airport as arranged and stayed with us throughout the whole 2 week tour - He arranged all accommodation which was excellent, reserved train tickets, navigated us through the complexities of busy train stations and subway systems and went out of his way to ensure that we saw as much of Japan as was possible in the time available. His in-depth knowledge of Japanese culture and street wise experience made our Japanese travel truly pleasurable. Without a doubt, this is the best overseas holiday that we have ever had thanks to Patrick and his company - JCT deserves the highest recommendation possible. Thanks again.

Ray and Lyn, (Trip Advisor)
November 2017 - Autumn Leaves - 16 days
For autumn season we typically run an early and a late leaf viewing tour taking in slightly different locations to capture the colours of the season. Like many of our themed tours, we do not exclusively focus on just one thing as the variety Japan has to offer provides many rich experiences.
We were looking for a comfortable, hassle-free way to get a sense of Japan and these two weeks did not disappoint. Patrick looked after us all the way through, adjusting things to meet our energy levels and interests. We saw so many things we would have missed had we been travelling independently. His fluency with the transport systems was impressive as was his wide-ranging knowledge of things Japanese. He had arranged quality accommodation throughout including two ryokans with memorable meals.
If Japan is not on your bucket list then you should put it there, move it towards the top and then use these guys!
John, (Trip Advisor)
September 2017 - Custom Tour - 30 days
We received a request to create a trip between two and six weeks and we suggested something in the middle. The result was a month long tour around many parts of Japan. Despite the one month duration the time did not drag as we had so much to do. There were many highlights and wide variety.
The first half included Hokkaido, the Sapporo autumn festival, the fort and great seafood in Hakodate, Jomon history in Aomori, a visit to the gold mine on Sado Island and eventually ending back in Tokyo for an afternoon at the sumo. The second half picked up with a trip as far south as Iwkuni and Hiroshima before spending time in Kyoto, the alps with Takayama and the coastal Kanazawa (including a trip to Komatsu).
The tour for independent travellers: If you are planning a visit to Japan and need some help with the logistics and language then this is the company for you (unless you really like being on a bus in a large group). We recently completed the 4 week grand tour of Japan with Patrick and can honestly say we have never had such an easy and stress-free holiday. The train travel is a marvel and being just ourselves there was plenty of opportunity to vary the itinerary and do something different. We had experiences we would have struggled to find had we been on our own. What we learned with Patrick did mean we were more than comfortable looking after ourselves for our add-on week in Tokyo.
Jenny, (Trip Advisor)
July 2017 - Custom Tour - 10 days
Back in July 2016 we received a request for a custom/private trip covering ten days split five in Kyoto and five days in Tokyo for either two or three people (we would not know until the trip started). In the early exchange of emails one of the first things we did was save them US$500/person on an airfare they were booking from Okinawa to Osaka. We also received a lengthy list of destinations that they wanted to cover.
We put all of these ideas/destinations into a logical order and essentially squashed a two week trip into ten days. At the conclusion of the tour we agreed that we had covered about 95% of the original list and added in some extra bits including finding turban shells "like grandma used to make" (to eat) and also an evening at the karaoke (hopefully the video will be deleted).
I highly recommend using Japan Custom Tours if you are planning a trip to Japan. You can create your own trip, tailor it to your needs and desires, and even change it as needed. We just returned from a trip with Patrick as our guide. We were able to see so much within our 10 days because of Patrick's knowledge of the trains as well as the cities that we visited (Kyoto, Nara, Hiroshima, Myajima, Tokyo, Nikko, Kanazawa, Hakone, and Enoshima). Patrick was also entertaining, making the trip truly memorable. His attention to detail and individual preferences contributed to a great experience that my family will not forget.
Lynne, (Trip Advisor)
April 2017 - Cherry Blossom Tours
Following on from the March tour we launched straight into our April blossom tours. With a larger group we included a number of optional activities for people in each of the places we visited. For this tour some of the highlights included:
Tokyo cherry in full bloom at Shinjuku Kyoen and other great displays in Kanazawa, Sendai and Takayama.
Spending a day at a craft village for hands-on experiences near Kaga Onsen (Ishikawa).
Visiting the Kyoto costume museum and then being allowed entry to the rarely opened 500 year old national treasure Shoin building (part of Honganji Temple in Kyoto) - open as part of the accession of the head priest celebrations.
Visiting the newly opened wing of the Hiroshima Peace Museum.
Catching the wisteria flowers at Nara.
Japan Custom Tours definitely tries to accommodate individual preferences among their small group tours. We were probably among the more adventuresome in our recent tour. Patrick and Wendy often let us go off on our own ahead of the rest of the group and/or let us remain at some locations for more time to site-see and gave us directions on how to get back to the hotel at night. So I'd recommend working with this company to let them know what you want from a tour. Given that you're part of a group tour, it's not possible to always accommodate everyone's individual preferences. But this company definitely tries to customize each day on the tour so that different people can do different activities.
Peter, (External site review)
March 2017 - Early Cherry Blossom Tour
For our 2017 early cherry blossom tour we covered central Honshu, the Japanese Alps, Kyoto and Hiroshima. The schedule (see here) covered many highlights of Japan including:
Two mountain towns (Takayama in Gifu and Kamiyamada onsen town in Nagano) enjoying onsen and traditional Japanese foods.
Major sights in Kyoto including Fushimi Inari, Kiomizu Dera, Kinkakuji and Nijo Castle..
Kanazawa and Kenrokuen and the magnificent blossoms of the plum grove.
A return to Tokyo as the cherry blossom season started to come into bloom more seriously with visits to famous viewing locations of Meugero, Yanaka Cemetery, Ueno Park and Shinjuku National Gardens.
We have just returned from a trip to Japan...and while it is easy to complain when things don't go well, its also important to tell people when it goes extra well. We travelled with Japan Custom Tours a small company headed by two New Zealanders. We wanted to have a look at a wide variety of places and things and we didn't want to have to battle the train system on our own, and we didn't want a large bus tour. As it turned out it was a very small group tour at cherry blossom time, and it went wonderfully. My impression is that as Patrick, who organised our trip, has lived in Tokyo for some years, but still retains the knowledge of seeing Japan from a visitors point of view. He streamlined the train travel, made sure no day was so laden with travel so as not to see interesting things on arrival, and organised a wide range of experiences. The accommodation was excellent with two stops in ryokan's for that real Japanese experience. Highly recommended.
Helen, (External site review)
November 2016 - Autumn Colours
For the autumn leaf viewing season we conducted two tours taking in different parts of the country to catch the colours at different times. The schedule (see here) covered some highlights of Japan including:
A visit to Nikko and Lake Chuzenji and clear views of Kegon Falls at the peak of the koyo season.
Great views of Fuji from Lake Ashinoko on our day trip to Hakone including Odawara Castle.
Brilliant autumn colours in Nagano, Hiroshima and Kyoto (and many other spots along the way).
Bumping into and enjoying the occasional festival or weekend market.
Some great food and shared company.
A trip to Shirakawa to the world heritage village with its unique steep thatched roof houses was the highlight of this holiday,the Autumn colours on the surrounding mountains were fantastic. Patrick was our guide for 17 days as we crisscrossed Japan. We contacted him 12 months ago with a list of sights we wanted to see and he was happy to adjust his tour to include them. We were a group of 9 and Patrick was extremely patient and calm when at times we wandered along like Browns Cows looking in shop windows or distracted by local events. Nothing was too much trouble and overall the holiday was fantastic.
Lorraine, (Originally posted on TourMatters.com (now defunct), external site review).
September 2016
We organised a custom tour for a couple from Canada covering 18 very busy days. While we worked on a customised schedule for them (see here), we ended up adding in many extra activities including:
Visits to five different castles, a couple of aquariums, and a private cruise around Toba Bay
Samuari training in Asakusa including kimono photo shoot, plus an interview with a ninja
Hunting for antique sword hilts (tsuba) and mochi molds (kashigata) and a customised t-shirt
Heading to many specialist shops and suburbs like Mitsukoshi department store for kimono fabric purses in Nihonbashi, Kagurazaka in Tokyo for tabi, and Yuzu miso in Kyoto
Trips to the Dali exhibition, traditional weaving, venetian glass museum, the Robot Restaurant and taiko drumming festival
Interesting restaurants based on local knowledge and recommendations including Hiroshima okonomiyaki, Kobe beef, a Ninja restaurant, sushi and tempura.
Neither my husband, nor I like to follow a flag on an large tour, and we do not enjoy being part of an entourage. If you like those kinds of tours, be my guest. If you really like to be spoiled, indulged and generally change your mind if you get bored, then this is the tour for YOU! Japan was my bucket list trip and I wanted to see the country of my dreams. Patrick did that and more. He asked the right questions before we travelled, listed to our needs while we were on the road, and stayed up nights trying to find the obscure item I wanted to find the next day. Because it was just us, we could spend as little time or as long as we wanted at each site. Without Patrick we could not have managed the trains and subways, not could we have found the many out of the way places we wanted to see. When you are spending morning to night with a stranger, it can be trying. Patrick was fun and we laughed our way thru the better part of 3 weeks on the road. The day trips from the major cities were highlights and the small, intimate out-of-the-way restaurants were the best.
Shar, (External site review)
March and April 2016
For two months across March and April we criss-crossed the country with three different groups. Each tour had its own unique features and included a few new places that we had not been before.
The March tour was the most ambitious, planned by a couple from the USA and joined by a couple of New Zealanders. Their list of places was extensive and included Fukushima Aquamarine, Nikko and Edo Wonderland, Yakushima (an island two hours south of Kyushu by jetfoil) with 1,000 year old forest trees, sand baths at Ibususki, Nagano, Hiroshima, Kyoto, Osaka for the sumo (and managing to catch the last train back to Kyoto) and onsen in the Japanese Alps. We even managed to get them a night at the Godzilla room in Shinjuku.
Probably the most ambitious piece was organising a wedding in secret and working through the red-tape needed to put it in place. It was not until we got Miss D on a train for a day trip back to Tokyo for an appointment at the US Embassy, our lawyers and the City Hall that she worked out what was going on. By the end of the week she was Mrs D.
Our core cherry blossom tour started at the beginning of April and covered two weeks. Despite a wet start to the month, the timing was perfect for full bloom at Shinjukugyoen. Despite seeing some other terrific displays around the country, the general consensus was that this was the highlight.
An additional request for this tour was to include a side trip to the art island of Naoshima. The weather was brilliant and in the space of a few hours our guests made the most of their time. It did make for a long and complex day of seven trains, a couple of ferries and a taxi to deliver us to our hotel in Kyoto at the end of the day, but it was worth it.
This tour included some of our regular spots and also Sendai for the blossom at Ogawara and a visit to Matsushima Bay.
Rounding out April was another group from Australia. While cheery blossom was an interest, it was not the core basis for their trip. We covered more ground by including Aomori and Hirosaki Castle Park (maybe three days before peak bloom for 2,600 trees), Sendai, Hiroshima, and Kyoto.
We also included an excursion into the mountains, staying at an onsen in Takayama and being in time for an additional float festival marking the 80th anniversary of the city. Completing the scenic journey across the alps we included a night in Kanazawa before returning to Tokyo and getting everyone to their flights.
With another eight weeks of travelling completed we have picked up a few new places and things to do. Feedback from our guests is being incorporated into our future plans, and we are adjusting the locations we visit slightly to avoid some of the more crowded places.
I just wanted to thank you both for an excellent holiday. You showed us a fabulous time and so much of Japan, The country, People, and customs . We loved the trains, food and company. Once again, many thanks
Pam O, Australia
January 2016
We organised a custom tour for a family from the USA at the end of January taking in Kyoto, the snowy mountains of Nagano and Tokyo. While it was only a brief ten days we still managed to cover a lot of ground and included plenty of opportunities for our guests to take photos of the wildlife at Hiroshima, Nara and Nagano as well as fitting in sights around Kyoto and Tokyo.
Patrick was our guide for ten days at the end of January 2016. We travelled as a family of four, parents and two adult children. We spent time in Tokyo, and the Kyoto area. We had a wonderful time. Patrick and his wife specialize in small group travel. You can see the trips that they offer on their web site, or you can do as we did and contact them directly to arrange a private tour. Patrick's extensive knowledge of local culture and customs perfectly complimented his western sensibilities and he was spot on regarding choice of hotels, the location of the hotels, and in making all the travel arrangements including getting tickets for trains and museums. He was available when ever we needed and wasn't there when we wanted alone time. Patrick made the trip easy and enjoyable. Our trip was tailored to our desires and interests. His choice of restaurants was excellent. Wendy was not able to travel with us on our trip. I'd travel with Patrick again in a heart beat.
Ed, (Originally posted on TourMatters.com (now defunct), external site review)
December 2015
Across the Christmas and New Year period we had the opportunity to tour with a family from Australia following the route outlined on our Winter in Japan schedule.
With an excess of energy, we managed to pack in a lot during the two weeks including:
Taking the Miyajima ropeway and hiking to the top of Mt Misen and then taking the long way back to the ferry.
The naval museum at Kure, followed by Hiroshima Peace Park and Hiroshima Castle.
Walking to the top of Inariyama at Fushimi Inari shrine in the rain (actually to only day it rained).
Treking around Shirakawa-go and Takayama.
Diung some Ninja training in Nagano.
Walking through the fresh snow to see the "snow" monkeys.
Hatsumode (first shrine visit of the year) at midnight New Year's eve/day at meiji shrine (a huge crowd in the forest at night).
Some awesome karaoke in Shinjuku.
You guys are incredible!
L&N, Australia (via facebook)
November 2015
For November we had two tours, a short Introduction to Japan and a longer Autumn Leaf tour. In between the two we also had a chance to spend a week in Sapporo.
For the Introductory tour we needed to take our guests straight from Narita to Kyoto to help them make the most of their time in Japan. Highlights included:
Kodaiji temple, Heian Shrine and gardens and Nijo Castle in Kyoto
Visits to Meiji Jingu in Tokyo with the chrysanthemum displays, and shopping in Omotesando during the Halloween parade
Testing different beers at English style pubs during the baseball finals
My husband and I had a wonderful and innovative trip to Kyoto and Tokyo with Patrick and Wendy. Do not expect the usual scripted guides; instead you will be traveling with two road warriors who are truly fascinated by Japan in all its iterations and love to show its attributes" its food, its focus on convenience, its smoothly operating rail and metro systems as well as its beautiful temples and shrines. Patrick and Wendy are careful to put together a trip that suits your style and pace. They are helpful and considerate at all times and most of all fun to travel with.
R&N, New York
For the longer Autumn leaf viewing tour we had a busy schedule based on the list of places our guests had selected. This made for a busy 16 day tour covering eight cities. However, they managed to pack a lot into their time and the weather was warm and settled for all but two days. Highlights included:
Viewing the autumn leaves at Nikko in amongst the forest and shrines
Taking the ferry around the islands of Matsushima Bay
Staying at a Japanese inn, with local foods and geisha entertainment during dinner
Sightseeing around Kyoto and Nara during Autumn, including staying in Arashiyama
Enjoying Miyajima in the late afternoon/dusk with a beautiful sunset together with the floating torii gate
Food - everything - especially the ramen
October 2015
We had a request for a short (six day) tour avoiding Tokyo and Kyoto. Picking up our guests from Narita we immediately whisked them to Takayama followed by Kanazawa and Nagano. Highlights included:
Shirakawago for the gassho-zukuri and the Hida Folk village houses in Takayama
Visits to Kanazawa castle, Kenrokoen, and the 21st Century museum of Contemporary Art (and a few late night ice-cream runs)
Ninja training in Nagano before geisha entertainment at our ryokan before visiting an old style castle/fort.
The time was short, but we still managed to do a lot, enjoying the settled autumn weather.
It's great to be able to have someone else look after everything - it's like being one of the kids again. Normally we're doing all the organising, but this is very relaxing.
CZ, Switzerland
September 2015
For two weeks we hosted a family on our Best of Japan Tour covering many sights of Tokyo, Kyoto, Nara, Hiroshima and Takayama before heading back to Tokyo. The early portion included a fairly rapid selection including visits to Meiji Shrine, Harajuku, Shibuya, Sensoji, and the Omotesando shopping area in Tokyo. Shifting to Kyoto allowed visits to Ginkakuji and Kinkakuji, Heian shrine, Gion, Kodaiji, Fushimi Inari and a full day across in Nara.
During the second week the pace slowed a little as we headed to Hiroshima and enjoyed some stunning summer weather at Miyajima. Heading away from the coast, and along the Kiso Valley to Takayama we were able to include the Hida Folk Village, exploring the old part of the town, the festival float hall and the rather intriguing puppet performance museum. Heading back to Tokyo we attended the sumo (a last minute addition to the schedule), and also included visits to the Imperial Palace, a brief look through Shinjuku and trip to the 200m high observation decks at the Government Metropolitan Building. A lot packed in with some additional details included on our blog.
July 2015
The first week of July saw us based in Shinjuku (Tokyo) exploring different areas of the city each day including Naka-Meugero, Nippori, Ikebukuro, Odaiba and even a trip out to Saitama (Omiya) for the JR East museum. The rainy season provided a lot of light rain, but the temperatures in the low 20's did not put us off enjoying an opportunity to attend a music festival and some of the great Tokyo shopping.
After Tokyo, we headed north to the Tohoku region, taking in Aomori and Hirosaki Castle and Park before catching the "resort" train on the Gono line and around the coast line providing great views of the rocky coast line before arriving at Akita and a hugely entertaining meal at a Namahage themed restaurant. A side trip to Kakunodate before heading to Niigata, Kanazawa and Kyoto with hot summer temperatures and brilliant clear days. The appearance of a typhoon added some more rain, but the day at the Nagoya sumo was well worth it, before heading back to Tokyo for a final two days. This provided one of the highlights of the tour, a dinner cruise on the Sumida River to Odaiba. A tour report is included on our blog.
Just wanted to thank you for introducing us to the delights of Japan. We enjoyed every element, from the towering skyscrapers of Tokyo to the amazing shrines, temples and historically significant sites to be found around every corner in Kyoto, and beyond. It was great to travel with a small group, and the flexibility to be able to dip in and out of trips and outings gave a very welcome, relaxed vibe to the holiday. The accommodation was all of a very good standard, a nice mix of 5 star luxury, mid range and traditional Japanese ryokan, the last of which was such a new and enriching experience! An unforgettable trip, we all agreed!
Thanks again, R, P & G, England
April 2015
Three weeks of touring chasing the cherry blossom from Kyoto in the south up to Sendai in the north. The rail system efficiently delivered our guests to Nara, Kanazawa, Nagano, Hiroshima, Tokyo and Sendai. The Spring weather made for some hot days and some wet weather too, but our guests made the most of the opportunities, including a cherry blossom viewing party in a Tokyo park, Kodai-ji temple, Kinkaku-ji temple and Gion in Kyoto, Todai-ji temple in Nara, Miyajima in Hiroshima, Ogawara and Matsushima in Sendai and a lot more. A tour report is included on our blog.
Thank you for a lovely trip. It is wonderful that there are people out there who listen to what people want and then plan a trip around this. Because of this, I did everything I wanted to on my first trip to Japan. I was amazed at the quality of our accommodation. Well done Patrick! I was expecting much smaller rooms and tiny bathrooms. Thank you for being so tuned in to my seafood allergy. I lasted the whole trip without being sick once!! Thank you Patrick for organising the Japan Rail passes. I had heard from people who had done it themselves that it involved a lot of form filling. Thank you for saving us from that. And lastly, I've just got back from cashing in yen that I didn't use on the trip. So thank you for taking us to such lovely, reasonably priced restaurants.
PS, England
Back home safe and sound after a wonderful time in beautiful Japan. Not only is the scenery lovely but the people are too - so polite and courteous and yet so hard working. In a country of 124 million people, there is no rubbish and no graffiti - just a huge respect for their fellow man and a desire to live in harmony. Many thanks to the small group I was with of Aussies, Kiwis and of course the Brits. Also thanks to Japan Custom Tours and their Japanese friends for all the laughs especially at the Karaoke Bar. Lots of bullet train rides, walks for miles taking in the cherry blossoms and sights and drinking a fair bit of sake!
Deirdre C, Australia
Thanks so much for your organisation, language skills, guiding, transport management, companionship and humour (so many hats you have to wear.) We had a very memorable time.
C & J, New Zealand
Patrick and Wendy have been excellent tour hosts, all accommodation pre-booked and train travel (Japan Rail Pass Shinkansen, subway and local lines) handled smoothly by Patrick with his impressive working grasp of Japanese spoken language and written kanji (symbols). They were also both excellent company, with Wendy providing little personal touches here and there.
We covered quite a lot of countryside in our 15 days, with all our requests skilfully woven together by Patrick: highlights were the snow monkeys, deer at Nara, Ryokan accommodation with traditional dinner and breakfasts, the beautiful gardens, shrines and of course the cherry blossom did not disappoint. We both highly recommend the small size (greater flexibility) and customised nature of Japan Custom Tours.
J & L, Perth Australia
---