Japan Cherry Blossom Tours 2024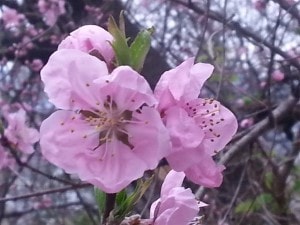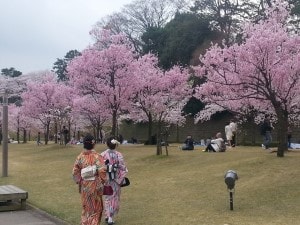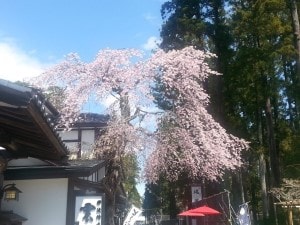 Cherry blossom season and spring is a beautiful time of year to travel to Japan. With the changing of the seasons people across the country enjoy the vibrant early plum blossom before the more popular and delicate colours of the cherry come into bloom.
We have designed our blossom tours to capture some of the best displays the Japan has to offer. However, our tours include much more than simply the opportunity to enjoy some of the cherry blossom festivals that are held in different parts of the country. Japan is a country that allows you to enjoy terrific scenery, fascinating castles, temples, shrines, culture, a rich history as well as delicious food as you travel around.
In previous years our cherry tours have seen many early bookings, well in advance. On occasion we have closed these tours to additional bookings as early as January meaning we were unable to accommodate inquiries and bookings that arrived during February and March. The 2023 season was similar with all spots booked by December 2022. Therefore, we recommend that you contact us early to secure your place . You can either use our simple contact us form or email us directly at admin@japancustomtours.co.nz We are re-offering this popular tour in 2024.
April 2024 Japan Cherry Blossom Tours
For spring 2024 we currently have commitments for a private cherry blossom tour in early April and private tour commitments during March and later in April. However, as at August 2023 we are looking at adding three cherry blossom tours, covering the early season in March, a second "Classic" tour and a late blossom tour with programs similar to previous years. We do have scope to offer a plum blossom tour in February as that is also a nice time of year for travel.
Our main tour is based around the core blossom season covering late March and April. Building on previous years we have made some changes to our schedules based on guest feedback and improvements to the order and travel times in some places. This has resulted in a reduction in travel times between locations, but also things like an additional scenic journey between Takayama and Matsumoto, and incorporating a visit to the city of Sendai and one of the "three views of Japan", Matsushima Bay.
With most arrivals occurring one or two days prior to the commencement of the tours this allows us to meet most of our guests at the airport, transfer you to your hotel in Tokyo and provide an initial introduction to Japan and Tokyo, one of the largest and vibrant cities in the world. This also gives you some free time to adjust to the time-zone, and explore a few areas of the city that interest you before we head off on our journey around the country. We understand many guests wish to arriving before the formal start of a tour due to flights and flight pricing, this allows people flexibility to easily join a tour.
We design our cherry blossom tour schedules taking into account the likely dates for the cherry blossom season and viewing in each location. These dates are based on the average flowering times from the last ten years and are a guide only. (The actual dates are out of our control.) However, there are a couple of things that make chasing the cherry blossom a little easier. Firstly, the early part of the season is when plum trees are flowering, providing an alternative offering of spectacular colours. Secondly, the "official" cherry blossom forecasts refer to a specific five petal variety (somei yoshino), and there are many different types of cherry trees - some that flower earlier and some later, extending the season. Certainly for our previous tour seasons we had cherry blossom viewing across a two month period. We also take pride in finding tranquil and uncrowded spots for our guests to enjoy the blossom on our trips.
The following provides a brief description of the tour we are planning for spring 2024 and a more detailed schedules are available on request. A tour brochure with additional information is available for download using the following link. Comments from previous guests can be found on our TripAdvisor listing on on our previous tours page.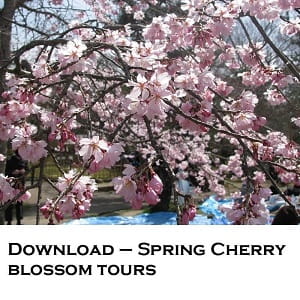 Classic

Cherry Blossom Tour (Saturday30th March to Sunday 14th April 2024)

(As at 30th June 2023 all the available slots for our #1 Classic tour have been booked. We are adding a second tour covering the same dates. As at the beginning of November 2023 we have four spaces available.)

For this tour we are offering a pre-tour Fuji/Hakone excursion on the Friday 29th March as an option for early arrivals (priced at JPY19,500 per person).

The peak period for cherry blossom viewing usually starts in Tokyo at the end of March and into the beginning of April. Therefore, we include some of the famous and popular viewing locations around the city including the Shinjuku National Gardens and Ueno Park. For the early 2023 season we also included the Hamarikyu gardens that included green blossom as a contrast to the usual white and pink.

From Tokyo, the shinkansen (bullet train) carries us south to the historic capital of Kyoto for some of the famous sites around the city, including a day trip to the first capital of Japan at Nara. From Kyoto, we travel to Hiroshima and time on the beautiful island of Miyajima with its floating torii gate.

Leaving Hiroshima we head to the west coast city of to Kanazawa and its famous Kenrokuen Gardens and castle buildings. We then head to the Japanese alps and Takayama before visiting Nagano prefecture for a stay at a traditional Japanese inn and onsen.

Rounding out the tour and chasing the cherry blossom north we visit the festival in the area around Sendai city. During out time in the city we also include a visit to the scenic Matsushima and a cruise around Matsushima Bay (considered one of the "three views of Japan".) The end of the tour sees us return to Tokyo on the Sunday.

Additional Blossom Tours
As cherry blossom season extends across many weeks and not just a few days at the beginning of April, we are planning two additional trips showcasing the uniqueness of Japan at this time of year.
Spring Cherry Blossom Tour (Sunday 10th March to Saturday 23rd March 2024)
While the peak period for cherry blossom viewing starts in Tokyo towards the end of March, there are many locations that provide beautiful displays through March. These including some of the famous and popular viewing locations around the city before heading into the Japanese Alps including a stay at a traditional Japanese inn/ryokan in Matsumoto.
From Matsumoto the scenic journey through the Alps continues to Takayama, including a visit to the gassho style buildings at the Hida no Sata open-air museum (more accessible and diverse than the tourist spot of Shirakawa-go). Passing through Kanazawa (one night) for the famous Kenrokuen Gardens we go south to Hiroshima for Miyajima island and its famous floating torii.
Moving north for a relaxing stay at the smaller city of Okayama. The city hosts the Korakuen Gardens and Okayama Castle. For our full day in the city visit to the picturesque Kurashiki canal district and historical quarter.
Our journey next takes us next to Kyoto, the previous capital of Japan for more than 1,000 years. With hundreds of possible sites to explore across the city we cover a mix of famous/popular location and some of the less crowded sites. A day trip to Nara is included. From Kyoto we take the shinkansen ride back to Tokyo completing the tour.
Price inclusions/exclusions
We price in Japanese yen, but can quote in your local currency on request.
Classic Cherry Blossom Tour: The price for sixteen days (accommodation for fifteen nights) is from JPY795,000 per person share twin/double.
Spring Cherry Blossom Tour: The price for fourteen days (accommodation for thirteen nights) is from JPY695,000 per person share twin/double.
For solo travellers (one person, without a shared room), the cost of accommodation is unable to be shared, but we have a policy to limit the extra cost and have priced our tours for a solo travellers at JPY895,000
The price includes:
Our tour service, including a dedicated guide for the duration of your tour. That includes a meet&greet at the airport and transfers to the hotel in Tokyo.
Accommodation, averaging 4* - 5* properties. We aim to book superior rooms to give additional space and comfort during your trip.
Transport, all train travel, subways, and transfers. Taxis are also covered during the day for our sightseeing as well as the occasional bus connection. (Not flights to/from Japan.)
Entrance fees for temples, shrines, castles, parks, gardens, and museums. These are listed in your agreed tour schedule.
Evening meals at ryokan (Japanese inn) accommodation are normally included. In general, we do not include lunch and dinner meals because Japan has a huge range of foods and we prefer not to restrict options, especially when food is a significant part Japan.
Exclusions are generally items such as theatre performances, sporting or other special events, theme parks, lunch and evening meals, snacks/drinks and other incidental costs such as hotel room service/laundry.
Bookings and Inquiries
If you are interested in joining one of these tours, please contact us or email us directly at admin@japancustomtours.co.nz.
---